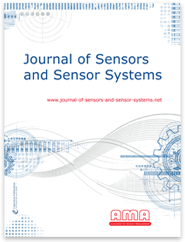 Chief editor: Ulrich Schmid
Journal of Sensors and Sensor Systems (JSSS) is an international open-access journal dedicated to science, application, and advancement of sensors and sensors as part of measurement systems. The emphasis is on sensor principles and phenomena, measuring systems, sensor technologies, and applications.
News
05 Jul 2023
JSSS receives Impact Factor
The editorial board of the Journal of Sensors and Sensor Systems, Copernicus Publications and the AMA Association for Sensors and Measurement are proud to announce that, 11 years after its founding, the journal has now been awarded an Impact Factor from Clarivate Analytics, with a starting value of 1.0. We thank all those involved for their great work and perseverance, particularly the all-volunteer editorial team and most notably Gerald Gerlach.

27 Jun 2023
Referee nomination improved
To offer our journal editors a better service and an improved experience in our online system, we have significantly improved the referee nomination tool in our review system Copernicus Office Editor. Experience more and take a look.


14 Feb 2023
Journal website facelift
In the coming days and weeks, readers of our journals will experience a facelift of our websites. Read more about the background.


Recent articles






Notice on the current situation in Ukraine
To show our support for Ukraine, all fees for papers from authors (first or corresponding authors) affiliated to Ukrainian institutions are automatically waived, regardless if these papers are co-authored by scientists affiliated to Russian and/or Belarusian institutions. The only exception will be if the corresponding author or first contact (contractual partner of Copernicus) are from a Russian and/or Belarusian institution, in that case the APCs are not waived.
In accordance with current European restrictions, Copernicus Publications does not step into business relations with and issue APC-invoices (articles processing charges) to Russian and Belarusian institutions. The peer-review process and scientific exchange of our journals including preprint posting is not affected. However, these restrictions require that the first contact (contractual partner of Copernicus) has an affiliation and invoice address outside Russia or Belarus.